">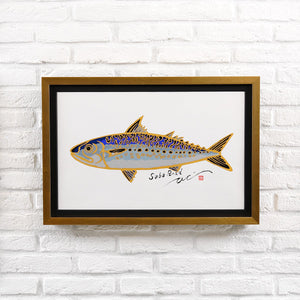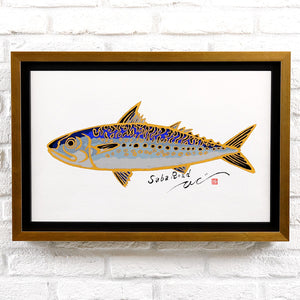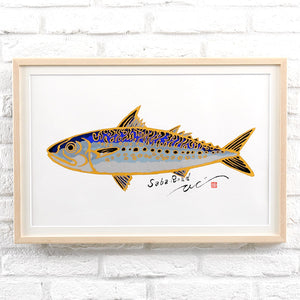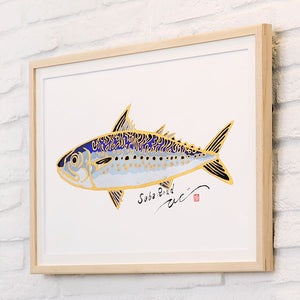 Silk screen "Saba Road"
"Saba Road" is a general term for roads that connect Demachiyanagi, Kyoto, to Obama City, Fukui Prefecture. It was a distribution route that mainly transports fish and shellfish to Kyoto. In recent years, the Saba Kaido has been thriving with lively events across prefectures. Hideki Kimura also participated in the visual design.
The original picture drawn as the symbol is finished in a full-scale silk screen work. It expresses the lustrous greenness peculiar to mackerel.
* The transparent acrylic on the frame is removed when shooting.
Year of production
2021
Technique
Silk screen
Edition
50 * What is an edition?
Sign
Hideki Kimura's autograph and edition number on the back of the forehead
size
Gold: W57.0 x L39.0cm (frame outside size)
Ash: W56.4 x L38.5cm (frame outside size)
Weight
Gold: Approximately 1500g
Ash: Approximately 1300g
Forehead specification
Gold: Width 19mm, Thickness 30mm / Wooden (Gold foil finish) / With acrylic / black mat
Ash: Width 15mm / Thickness 22mm / Wooden / With acrylic / white mat
State of work
Good
Delivery period
Usually ships within 3-5 days
Special notes
come with a box
You can choose the frame from gold / ash.