">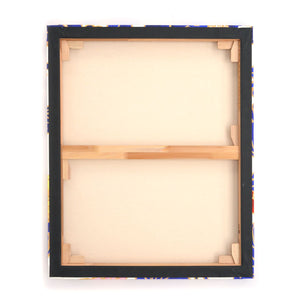 Giclee print "Carp" F15
What is Giclee print?
Giclée, which means "spray" in French, is a state-of-the-art printing technology that prints without using a plate, unlike lithographs and silk screen prints. Digital data obtained by scanning the original image with high resolution is printed on the finest fine art canvas with a matte texture in high definition, high color gamut, and highly storable pigment print.
Giclée is a technology that reproduces subtle nuances such as the unevenness of the work and the texture of the canvas, and most faithfully expresses the author's unique "color" and "touch". In addition, by manually adding edging , the work will be as three-dimensional and powerful as the original.
The Giclée prints will be signed by Hideki Kimura as a formal work.
SCAMERA-Muse
An ultra-large digital archive scanner that can scan the world's largest 2m x 2m size documents with ultra-high definition and non-contact. Newly Co., Ltd., which also handles scanning of cultural property class sliding doors and folding screens, scans the original drawings.
Museum-level quality
By dropping 12 colors of ink many times, it is possible to express colors that could not be expressed by conventional printing.
We will deliver museum quality works as the best partner to express the color and dynamic feeling of Hideki Kimura's works.
Achieves 250-year scale light resistance
Light resistance is the most important factor in a work of art. It is required to keep the state when the work was completed and leave it for as long as possible. The pigment ink used in Giclée has achieved high water resistance and light resistance on a scale of 150 to 250 years * by combining it with paper. (* Expected value for the number of years to compete when displayed in general glass.)
Ki-Yan Artwork's giclée prints have a high-quality pigment print and hand-painted gold edging to create a three-dimensional effect that is comparable to the original. It is a powerful work.
| | |
| --- | --- |
| Year of production | 2019 |
| Scanning | Newly Corp. |
| Giclée print | Graphic Co., Ltd. |
| Sign | Hideki Kimura's autograph on the screen |
| Technique | Giclée print on canvas + hand-painted |
| Body size | W53.0 × L65.2 D3.6 (cm) |
| Weight | Approximately 1.5kg |
| State of work | Good |
| Forehead specification | Floating crate |
| Delivery period | About a week |
| Special notes | * We will wrap it in packing material and ship it. |